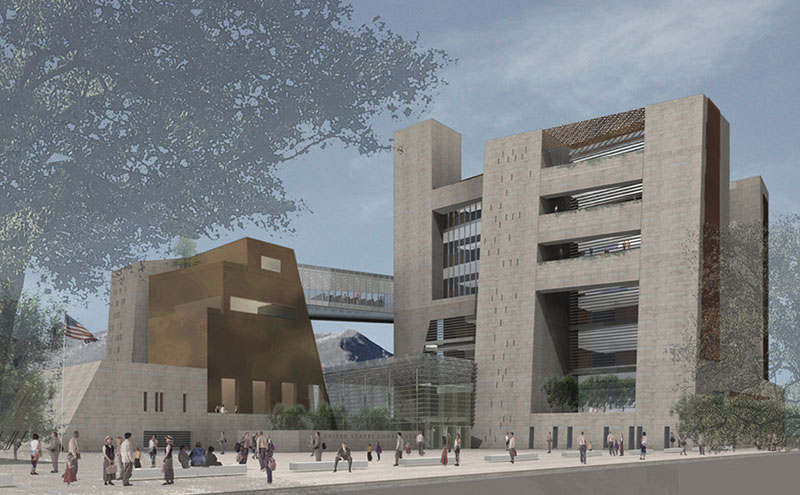 UNITED STATES FEDERAL COURTHOUSE
El Paso, Texas
2001/2010
The new Federal Courthouse is a civic monument that defines the edge of downtown El Paso, framing the magnificent view toward Mount Franklin, while simultaneously establishing a hierarchy of urban spaces that connect the city fabric to the inner spaces of judicial proceedings.

Historically, "El Paso del Norte" defined the pass from South to North, and the Rio Grande carving through the mountains defines a pass from the East to the West. Our design for the Courthouse symbolically marks these transitions by creating a great "pass" or gateway through the building. This portal defines the entry procession with a continuously focused view on the Franklin Peaks beyond.
The library - iconically symbolic as a repository of the written history of law - is made visible to the public, spanning between the Special Proceedings Courtroom/ Chambers and the main body of the courthouse. The lobby is a raised interior civic plaza that is contained by the copper object of the special proceedings court and the stone body of the courthouse proper.

The mass of the building is defined by two pieces, one copper (in reference to the local smelter) and the other, Texas Limestone. These are joined together by the louvered glass entry lobby. The limestone body of the courthouse proper is carved away to reveal the inner glowing copper body of the Courts, while the copper skinned Special Proceedings Court provides a counterpoint. The carved out portions of the building also define a hierarchy of smaller gathering spaces that are both indoor/outdoor and public or private.
In silhouette, the new Federal Courthouse for El Paso becomes a rugged southwest landscape in abstraction, while expressing a social diagram of American egalitarian ideals.